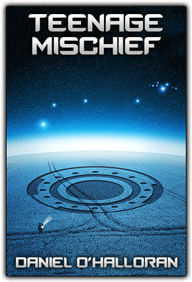 Teenage Mischief
A Strange Imaginings short story
Nerds need to have fun too. Kevin and Billy just wanted a little attention: something that is hard to come by in the farm belt unless you are scoring touchdowns. A harmless prank turns into a night of fear and amazement. It turns out they weren't the only ones looking to create a little mischief.
Strange Imaginings
Teenage Mischief is one of the first stories in my Strange Imaginings series: a collection of short stories blending the genres of science fiction, fantasy, and horror. Like the great Twilight Zone stories from decades ago, I hope to bring you, my readers, some fun and twisted tales that will stir your imagination, stretch your mind, and tickle your funny-bone.
Look for Teenage Mischief available now as an ebook through Amazon. Teenage Mischief and all my Strange Imaginings stories will also be available in the near future in collected editions under the Strange Imaginings moniker.