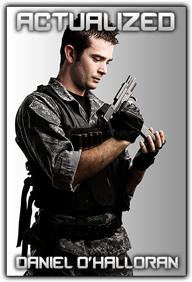 Actualized
A Strange Imaginings short story
Who are we really? Are we the sum total of our past experiences, or are we defined by our actions in the here and now? What if we have no memory of our past? Can we truly find our identity without any clue of how we came to our present situation?
Follow Auto, an elite soldier, as he struggles to answer these questions, against a backdrop of future warfare. Intense gun battles rage through the confines of an American landmark, while the world outside crumbles and burns.
Will Auto survive this nightmare, and will he find the answers to his true purpose and the chaos surrounding him?
Strange Imaginings
Actualized is one of the first stories in my Strange Imaginings series: a collection of short stories blending the genres of science fiction, fantasy, and horror. Like the great Twilight Zone stories from decades ago, I hope to bring you, my readers, some fun and twisted tales that will stir your imagination, stretch your mind, and tickle your funny-bone.
Look for Actualized available now as an ebook through Amazon. Print version coming soon. Actualized and all my Strange Imaginings stories will also be available in the near future in collected editions under the Strange Imaginings moniker.