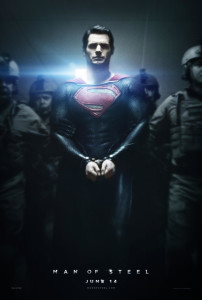 Simply put: Man of Steel was freaking awesome. I have been waiting for this type of Superman movie for longer than I can remember. The original Superman movie was a good flick for its time, and Christopher Reeves did a masterful job of making us believe Superman could hide his identity behind the façade of a bumbling Clark Kent. But I'm not ashamed to admit I am from a generation that loves spectacular action and special effects, and I have been craving a Superman movie that really taps into the modern day potential of movie magic, with an equally engaging storyline and characters. Man of Steel delivers in spades.
I don't give this praise lightly. I had serious reservations and doubts about this movie going into the theater. The bitter taste of Superman Returns was still fresh in my memory. I know the critics have been espousing that the former movie was better than people gave it credit for, that it actually got better reviews, etc. Maybe Superman Returns wasn't a bad movie, but it certainly wasn't a good movie either. At best it was a "blah" movie, and for a Superman movie that just won't cut it. Superman never even throws a punch in the movie. In fact he gets his ass kicked by a couple of thugs while under the influence of kryptonite. In fact the biggest "super" feat in the movie was lifting a big rock, incongruously while under the influence of the same kryptonite that allowed the thugs to beat him nearly to death. In contrast, Man of Steel has some serious throwdowns with other Kryptonians. Even the super lifting feat included in this movie, holding up a collapsing oil rig tower, is a heck of a lot cooler than slowly lifting a big rock into space.
My reservations about Man of Steel continued in the early days of the production as news trickled out. Nolan and Goyer became involved, and though they did a spectacular job with the first two installments of their Batman series, I was skeptical about their suitability for the Superman franchise. How would their dedication to ultra-realism translate to a story about a man who can bench press mountains and fly through space? Furthermore, in my opinion the last installment of their take on the Batman mythos strayed way off course, compounding my doubts. We soon learned that Zod would be the major antagonist of the new movie, and while I was encouraged that Superman would have a real superhuman opponent, I feared we would get another poor copy of the original movies, just as Superman Returns came across as a poorly plagiarized version of the original. The earliest trailers for the new movie didn't help either. They seemed to suggest a long drawn out discovery process, devoid of the Superman action sequences I was craving. The most exciting thing they showed in the original trailer was Superman flying. We've been there, done that.
Subsequent trailers offered more promise, though they still didn't show a lot. I guess they were using the old trick of the strip tease, show us just enough to get us interested. In hindsight I'm glad they didn't show or reveal more, because every moment of the movie was a treat, unspoiled by over divulging trailers prior to release. I often despair when I have to sit through another origin story for these comic books icons that I know so well. I'm anxious to get to the good stuff. But Man of Steel managed to make the new origins fresh and interesting, and extremely relevant to the overall story.
And holy crap did they nail the casting of the new Superman. Henry Cavill's Superman makes previous movie renditions of the character look like guys playing Halloween dress-up. This guy looks like he could bend steel, even without the movie magic. The acting was solid all the way around. Superman came across as caring, complicated, and heroic. Lois Lane was likable, smart, and had a real adventurous spirit, and loads of integrity. You could easily see why Superman would fall for this mortal woman. Contrast that with super-bitchy Lois from Superman Returns. Is it any wonder he decided to leave the planet for five years?
Some critics have argued that this Superman is too violent and not true to the character. These people obviously don't know much about the character. Most of Superman's stories (comic books, animated series, original Superman movies) involve violent conflicts with other superhuman opponents. Do they really think we want another movie where Superman battles the elements and catches falling airplanes. Before I continue I should warn we are getting into serious SPOILER territory here, so proceed at your own risk.
Superman doesn't kill lightly, nor should he. In Man of Steel when he is forced to cross that line he is begging his opponent to give him an alternative, and when he doesn't, the taking of a life obviously weighs heavily on Kal-El. This isn't simply the act of taking the easy way out. Zod is just as powerful as Superman, and left unchecked could lay waste to the entire planet. Superman's original plan was to exile Zod back to the Phantom Zone with the rest of the Krpytonian terrorists, but when that is no longer a possibility his options become extremely limited. Even then, it is only when innocent civilians are in immediate danger that Superman is forced to cross that line and kill another living being. Contrast that with Superman II, where a Reeves Superman tosses a powerless Zod into the abyss or in the comics where Superman sentences a defeated and captured Zod to death by kryptonite.
So to summarize, why is Man of Steel the best superman movie ever:
Awesome action that makes great use of the environment (smashing buildings to pieces, mega explosions).
Intense superhuman versus superhuman combat (can you say using a train as a weapon – gives new meaning to more powerful than a locomotive).
A villain with a goal that makes sense (unlike Lex Luthor from Superman Returns, who thought an ugly chunk of black crystal/rock would make for prime real estate).
A Superman that looks the part (this guy really does look like he could bend steel).
A Superman who embraces his role as humanity's protector (I loved Smallville, but Clark's crying about being different could be tiresome in the early seasons – come on you can run faster than the speed of sound and juggle tractors – yeah, sucks to be you. Not to mention being able to see into the girl's locker room).
Lois Lane is no dummy (A pair of glasses were never going to fool this girl).
No more camp (Man of Steel has it's humorous moments, without resorting to the type of campy antics that were pervasive throughout Superman Returns).
In summary, Man of Steel is the Superman movie I have been waiting for since I first fell in love with the character. I can't wait to see where they take us next.